And now, the end is near... And so I face the final curtain...
This is my final aritst of the month post for bead buddies. Here's the rest of my travel adventures!
This month has absolutely flown by. I've just sat and arranged my budget spreadsheets to take to the mortgage advisor tomorrow, so we avoid the trying to figure out what we spend out on each month - we went to see an advisor a few months back to check we were on track, and struggled to remember it all!
Hopefully it will be good news and that we are still where we need to be to get our house hunt officially started to hopefully buy in the next 6 months!

Anyway, as promised, here follows the details of my stay in Australia. I was a bit gutted to find that half of my pictures taken in Sydney appear to have been lost somewhere along the way... I need to try and find an old back-up disc as I'd be completely gutted if I've lost them completely. I do at least have a photo book with some of them in if that's the case.

Where were we... On our way to Goomeri! We got taken to the local bus depot where we picked up a Greyhound coach that took us to be picked up by Matt, our ranch hand for the week.
We arrived and settled down in our bunk room and headed out to the conservatory for dinner. The meals here were fantastic, every night we had something different and delicious, and on the last night we had a huge barbeque
Then it was off to bed ready for our first day on the ranch. Now, I can't remember exactly what order we did these in, but what does it matter - it was all great fun!

Quad Bikes
These were bloody good fun, and we spent several hours going along various tracks, ridges and speeding across fields. You wouldn't believe the power in these machines, and unfortunately one of the girls did find that out the hard way. It involved a wheel slipping on a loose rock, adjusting the steering on the bike and causing her to go head on into a barbed wire fence. That's how easily it happens. Fear not, she was OK, but lucky to have hit the brakes when she did or it could have been less slicing and more garotting... A stark lesson. But as I said, other than that - bloody good fun! The scariest bit for me? Being at the top of a near-vertical hill, and pulling back on the throttle to go down it. Oh. My. Gosh.

Motorbikes

This was terrifying. I've never ever been a fan of bikes, and to be honest they scare the living daylights out of me. Needless to say, when these were presented to me, I was less than eager to get on one. Thanks to Matt though, I made it onto one, and set off. First we had to go in a straight line, not so bad. Then we had to go around a little course. The only catch, it was up a hill, then around and across the top before turning onto the decline and back down. Not so easy, but after a couple of shaky laps, I soon caught up with the others. This was all OK, until we started doing a long run up to a hill where we had to turn full circle and come back. Why so nervous, you may ask - well the hill wasn't just a nice smooth grassy hill, it was absolutely riddled with boulders and rocks, and I started to doubt I was going any further on one of these things. Again, Matt talked me around, and although my cousin had to rescue my bike from a rocky outcrop once, it went alright. Then we were off! Out on the tracks, a different way to the route we took on the Quads, stopping off quite early on at a big round dusty 'circuit'. I pulled a wheely! I never thought I'd pull a wheely EVER, but it was awesome. Again we headed out along tracks and ridges and up into the top fields of the ranch. Once we got there we had great fun in making our way down the ridges. The fields were all ridged as we came down, this is their form of irrigation so that the water doesn't all collect at the very bottom of the hill. Half way down, we all pulled up and lined up to jump one of the larger ridges, and we knew we were getting stitched up - ranch hand's jokes aren't always funny you know! We all pulled off, and as my front wheel went over the ridge, all I could see was sloppy sticky mud underneath me. Lucky for me, I had flown over just behind two of the other girls, and my bike clipped the side of one of the others who had just got well and truly stuck in the mud! This resulted in my handlebars locking back and slamming into my leg - this was the end result:

The one on the left was taken the following day, the second one was about 7 days later when I was in Sydney. I still have a dent in my leg to remind me of it now
4 x 4 driving
I loved this. We went out to the top of the fields again, and the first thing we did was learn about a 4x4 and maintaining them. This included each having a go at changing a tyre on one of these beasts. I couldn't remember how to do it now though...
I have hubby for that

After our little lesson, we each took it in turns to take it for a spin, and we had to be careful because those of us who weren't driving were sat on the back of the truck suffering any arguments with tree branches or excessive water splashes! We did all get out and go one by one for the big hill though - the reason? At one point the tilt of the vehicle was within 5 degrees of it's rolling point - that got you sweating! This was me on my way back down said hill - sadly it really doesn't look half as big or scary as it was!
Horse Riding
This was what I was looking forward to the most. I started horse riding when I was 2 years old, and I used to help out every weekend in exchange for a ride on a Sunday evening. I really miss it, as due to the expense of it, I haven't been in over 2 years. The smell of stables is a very nostalgic one for me. Here though, there were no stables - we had to round up the horses before we even started, quad bikes at the ready! We got them in, and groomed them to get rid of the dust before we saddled up. Whoever has been horse riding here in the UK will know we have quite a strict way of riding, in that you must always have your shoulders, hips and feet in a straight line, sitting up straight with your heels pushed firmly down. Americans for example, ride in a very laid back fashion with no such rules, they just sit back in the saddle and get on with it. Australian riding is somewhere in between, so for me, it was a little bizarre at first to do rising trot with my feet in front of my body. I soon settled into it though, and what followed was a very enjoyable ride. Highlight: when me and Molly cantered off with Laura the ranch assistant and jumped a sizeable log. What a rush, and how I miss it.

Fencing
[Sorry no pictures of this... It's just building fences!] We got to play with chainsaw's today - felling excess trees, and chopping them down to size for collection. Later we headed to the wire fences and learned how to repair them and put in new posts.

Tractor Driving
This was wicked fun. My granddad used to work on a farm on tractors and harvesters, and used to tell us stories of his days there. We had to move the haybales from one location to another, ready to feed the cattle when we brought them in the next day. The gears and clutch took a minute or two to adjust to, but after that, playing with the spike and the lift at the front was brilliant. We also got to enjoy some beautiful views, and experimented with our sunglasses a bit
The final round-up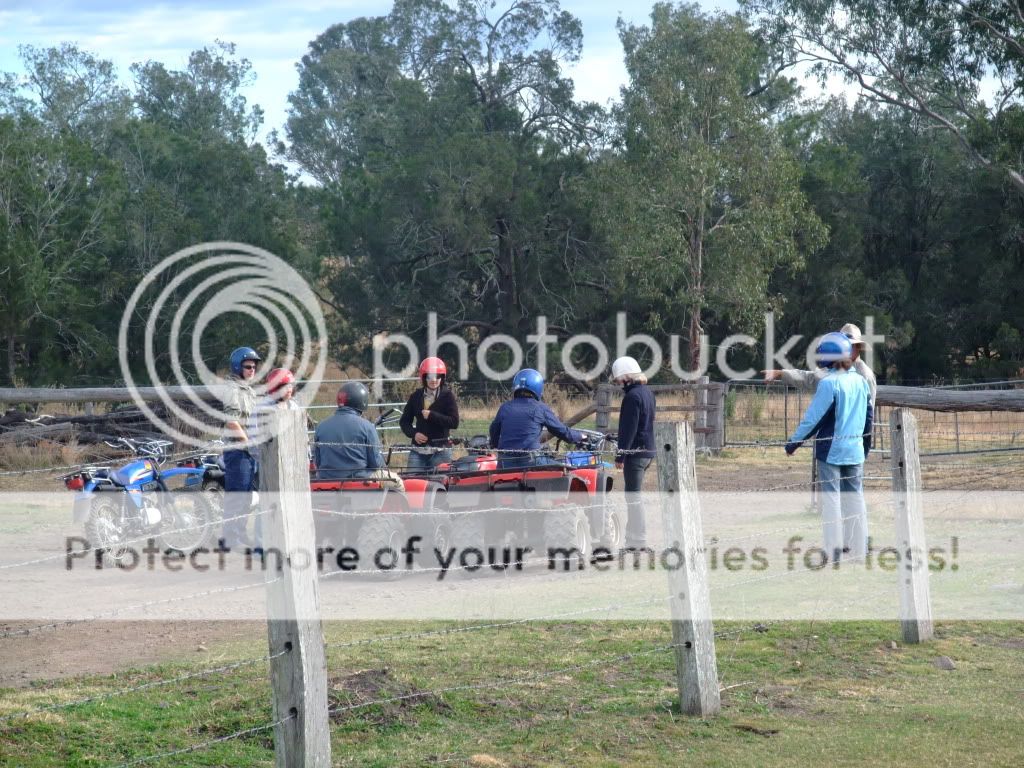 Our last day was what we had been building up to, it was time for the cattle to come into the ranch. I saddled up with Paul, and the others picked quads or motorbikes to head out on. The plan was to do two rounds of the fields to collect every last cow and bull, and bring them back into the yard ready to be branded, clipped, injected and castrated... The first round went pretty well, we kept to formation and managed to round up all of the cattle. However, on our way down the last hill, me and Molly got into a bit of a to do with a bull who tried to break away from the front of the herd, and on our chase Molly lost her footing, and I went flying. Subsequently I was winded, and couldn't hold on to her reins - Matt galloped off after her to bring her back, and the other ranch hand came over on his horse - who apparently spooks at bodies on the floor. That was fun, there was nearly two of us spangled on the floor! Unluckily for me, when I landed, it was almost square on my tail bone, so when I got back up on the horse (which you always have to do!) I didn't get too far before it was hurting. Alot. I bade the group farewell and me and Molly took a steady walk back to the yard whilst they made the second round trip. We had a pleasant hour, I gave her a thorough wash down and brush, and lots of cuddles
then when the others arrived back with the cattle up ahead, it was into the paddock with them. We had to get in to herd small numbers at a time into the bigger 'keep' paddock, via a small filter gate where we could seperate the calves that needed attending to.
We all went home that night with a great feeling of accomplishment, but also sadness that it was over. We all celebrated with a barbeque, and got our certificates for passing the week! Oh, and we had a little bit to drink


From here, I bid farewell to everyone and as they headed off to work on various ranches, I made the trip back to Brisbane airport to fly to Sydney to meet my friend Tim. Unfortunately, it is now getting late, so I will leave you with snaps of Sydney, and tell you it really is a beautiful place. Wherever you look there are stunning water features, the gardens are so peaceful, the Opera House sublime, and the only thing I regret is not climbing the bridge, but that was something I just couldn't afford by then. I will be going back, and next time, I'm taking hubby. If I can, I'd like to time it to see the chalk festival again - if I ever recover those missing photos, I'll be sure to post them for you to see. Some of the art work we saw was amazing, and we got to decorate the water paths with our very own chalk stamper!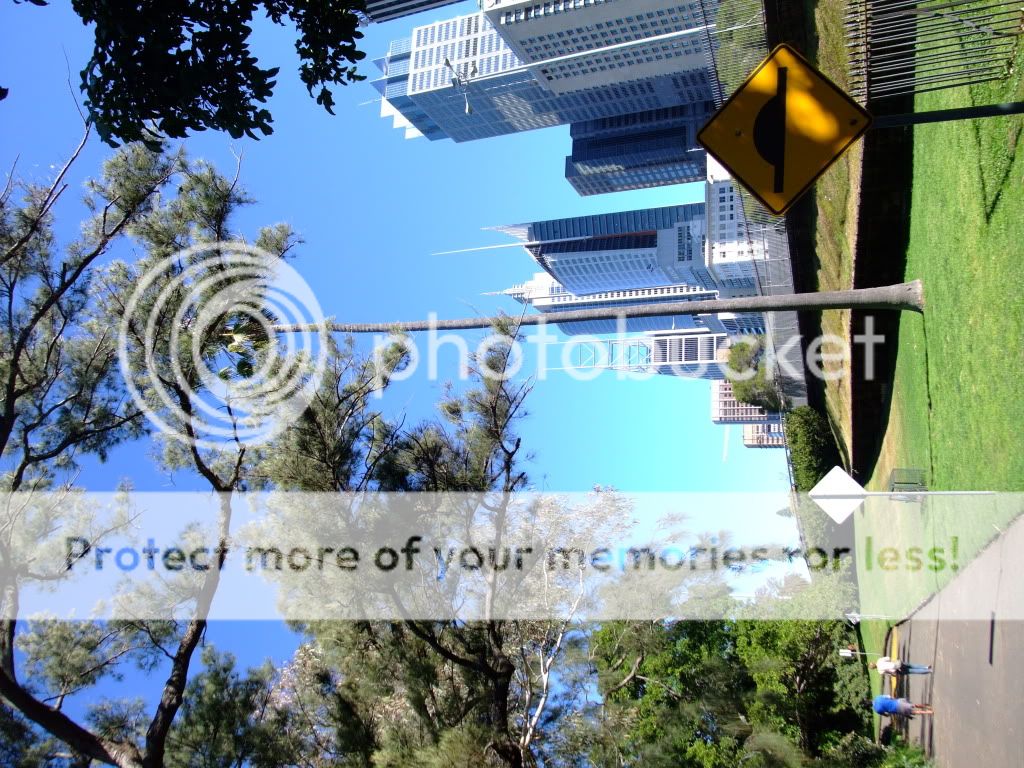 BATS!

Well, from here I thank you all for reading, and would like to invite you to my blog to keep up to date - http://littletreatslou.blogspot.com
Please welcome for this month Dee! I look forward to reading your blog Dee, and sorry to everyone that I've been a bit of an inconsistent blogger. Wish me luck for the mortgage advisor!